Celebrating libraries as a space for Shared Reading and connection this #LibrariesWeek
Written by Lily Kehoe, 2nd October 2023
For Libraries Week 2023, Geetha Rabindrakumar, our Director of Partnerships, Communities and Impact shares how our work in libraries supports our mission to bring about a reading revolution where everyone can experience the power of literature to help us survive and live well.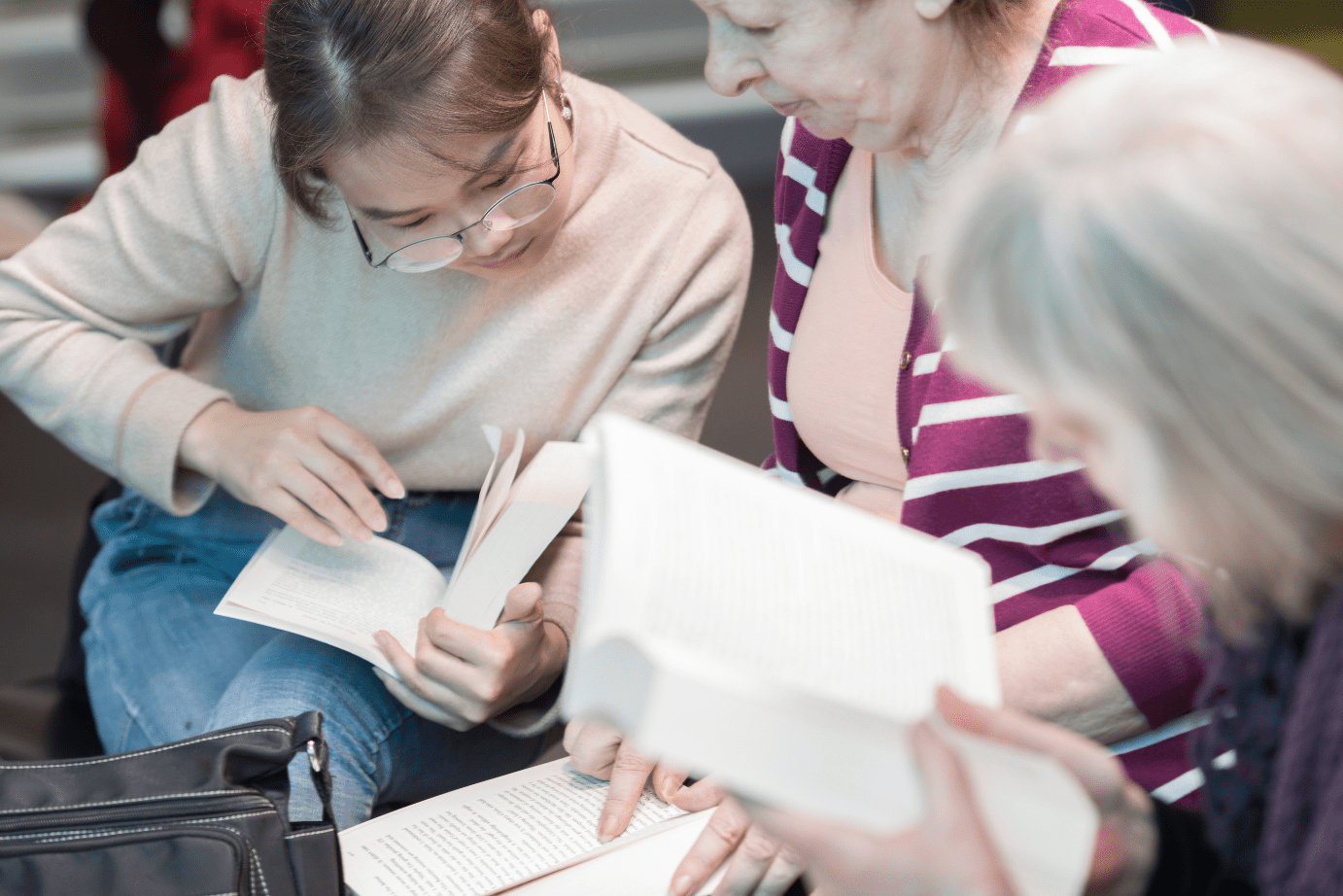 ''The Shared Reading Library group in Yeovil is a joy. A wonderful start to my week. Great people, great venue. The hour plus with them all each week has become a really key pleasurable part of my life.'' - Volunteer Reader Leader speaking about his group at a Somerset library    
This week is Libraries Week, the annual showcase of the best that libraries have to offer, and this week we're celebrating our partnerships with library services and the work of library staff and local volunteers which bring Shared Reading to people in their communities. 
In our Shared Reading model, our volunteers and partner staff bring people together in small groups each week to read great poems and stories aloud, creating powerful moments of connection. 
Libraries are natural partners to bring the power of Shared Reading to local communities, in offering non judgmental and inclusive spaces where people can come together to read for pleasure.  Following a period of rebuilding post COVID, we now have 130 groups running in libraries around the UK, which is over a third of all our Shared Reading groups in communities. Shared Reading enables libraries to deliver tangible health and wellbeing outcomes for local people, like many of the partnership examples in the Libraries Connected research recently published, which highlighted the £3.4bn value that public libraries generate each year. 
Shared Reading is open to anyone, has very low barriers to access, and can help bring people to these spaces who aren't regular library users. It's great to see this what this has unlocked for Jenna,  who attends a group with our partner Dorset Libraries, who says that ability to read isn't relevant as "Shared reading is all about getting into the story and characters, it's about what it means to me, how I perceive it. I like this better than other activities I have tried because I feel that I don't have to bring anything along with me.  I am valued for who I am."  Jenna is just one of many people benefiting from Shared Reading supported by long standing relationships with local authorities including Dorset, Somerset, Hammersmith & Fulham, Haringey, Doncaster, Sefton, Cheshire and Conwy.  
Over the past 18 months, we have supported an innovative Arts Council England funded partnership of 4 library services in South London (The Reading Retreat – made up of library services in Merton, Sutton, Kingston and Croydon), which has set up 16 new Shared Reading groups to date across South London, run by 22 volunteers and supported by local library staff.  
We know that Shared Reading reduces loneliness, helps people find new meaning in life and brings a deeper enjoyment of reading, and it's been wonderful to see how the volunteers and group members in the Reading Retreat have experienced this. Cynthia, one of our volunteers in this project has shared her story, which shows what reading great stories aloud together can do, both for our volunteers and group members: "I love sharing a story that shows us that we all have these difficulties –you are not alone, that this is part of life. Life is about realizing we are connected so much more compared to what disconnects us." 
Over the next year, with the support of the Unwin Charitable Trust, and Arts Council England we will be working with 11 library services in the North West, Yorkshire and London to establish Shared Reading groups to reach new communities. It's brilliant to see the ways in which library services have developed their local engagement, and to plan together to set up Shared Reading groups to reach people with specific experiences including those with dementia, carers, refugees, and people with visual impairments as well as groups for everyone supporting general wellbeing.  
As Miriam Storey, Senior Librarian at Greenwich Libraries says: "Libraries are uniquely placed to offer safe, welcoming spaces where communities can learn, discover and participate. We recognise the benefits of reading for health, wellbeing, improving relationships, increasing empathy and creating lifelong learners. Shared Reading offers an opportunity to be more inclusive and to offer reading activities where everyone can feel involved and can share their lived experiences." 
We're really looking forward to establishing Shared Reading in new places this year, and working with our existing partners and commissioners to develop and sustain the groups we have. A huge thank you to the funders, commissioners, committed library services staff and above all our wonderful volunteer Reader Leaders who make Shared Reading happen, helping local people who come to their groups to live better and feel connected.  
If you'd like to see where Shared Reading is happening near you – see our find a group map 
If you'd like to explore how we could work together to embed Shared Reading into your library services offer, please contact partnerships@thereader.org.uk  
Contact us
Get in touch and be part of the story
You can also speak to us on:
0151 729 2200