Ranked: The Novels of Jane Austen
Written by Emma Walsh, 18th July 2016

Today marks the anniversary of Jane Austen's death in 1817 and it's got us thinking about what an incredible legacy she left behind.
Over a century after her death at the age of only 42, Austen is still one of the world's most celebrated authors of all time; her work continues to be revived with film adaptations, various prequels, sequels and retellings in new and bizarre genres and next year she will grace the new Sterling £10 notes.
It's an incredible legacy considering her novels were originally published anonymously to little success in her own lifetime. Today, her six major novels are rarely out of print.
All of Austen's narratives revolve around the domestic lives of the landed gentry toward the end of the 18th century, giving a female perspective of a male dominated world through a lens that is romantic yet realist. Austen's novels provide a succinct social history not without comment, critique and humour. Her female characters in particular broke traditional moulds and continue to be some of the most celebrated in literary history. Despite the strict social constraints imposed on them they are strong, funny, clever, bold, brave and ultimately flawed in their own way, yet they are all, generally, rewarded with the greatest triumph women of the time could enjoy, a happy marriage.
But that's not to say that each of Austen's six major novels do not have their own individual charms and merits. In fact, we've taken each of the six books in turn and have ranked them in order of utter brilliance. But do you agree?
6. Mansfield Park (1814)
Mansfield Park is Austen's third published novel and perhaps the most controversial. The protagonist, Fanny Price, is plucked from the poverty of her family home to grow up as a companion to her wealthy cousins at Mansfield Park where she is acutely aware of her own humble background. In their father's absence, her cousins befriend two new neighbours with a reckless taste for flirtation and the glamours of city life.
Although modern audiences may not connect well with her, Fanny is a somewhat complex character. She is timid, virtuous and morally upright, and though critics at the time praised her wholesomeness, even Austen's mother deemed her 'insipid'. However, as the novel progresses and Fanny find herself isolated even from her only ally, Edmund, she demonstrates courage, integrity and great strength of character, staying true to her own moral compass rather than falling obediently into line with her cousins.
"Her own thoughts and reflections were habitually her best companions." - Jane Austen, Mansfield Park
5. Northanger Abbey (1818)
Published posthumously, Northanger Abbey is thought to have been written much earlier than her other manuscripts when Austen was quite young.
The novel is a parody of Gothic fiction, thought to have been written as fireside entertainment for the Austen family and friends. Austen directly addresses the reader on several occasions, entering into satirical deliberations about the value and contemporary opinion of the novel as a medium.
"The person, be it gentleman or lady, who has not pleasure in a good novel, must be intolerably stupid." - Jane Austen, Northanger Abbey
Austen throws out every 18th century fictional convention, creating a plain, undistinguished heroine from a middle class family who falls in love with the hero before he even knows who she is. Catherine Morland is an innocent 17 year old obsessed with Gothic thrillers, who, while visiting Bath, meets and falls for Henry Tilney. When he and his sister invite her to visit their family estate, Northanger Abbey, Catherine's imagination carries her away into ghost stories and terrible suspicions about their father's tyranny and their mother's untimely death.
 4. Sense and Sensibility (1811)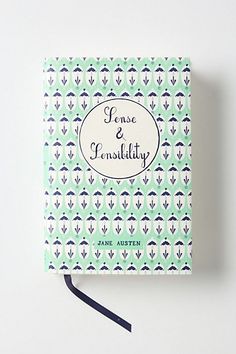 Appearing under the simple pseudonym A Lady, Sense and Sensibility was Austen's first published book. The novel's plot follows the traditional boundaries of a Comedy of Manners, portraying the lives of two sisters who, after their father's death, are removed from the wealth and luxury they've grown up with and move to a small cottage bestowed on their family by a distant relative.

"Know your own happiness. You want nothing but patience- or give it a more fascinating name, call it hope." - Jane Austen, Sense and Sensibility
The younger sister, Marianne, is deeply romantic and wears her heart on her sleeve, personifying the emotion of 'sensibility'. She is perhaps more modern in her open, impulsiveness compared to the restraint and good 'sense' of the elder Elinor who demonstrates more concern for the social conventions of the time. Both sisters, inevitably, meet a desirable prospect, and both, inevitably, are spurned in love despite their opposite approaches to courtship. Throughout the novel it is unclear whether Austen meant for sense or sensibility to prevail but the personal struggles which Marianne and Elinor endure expose the flaws and advantages of being too closed or openhearted.
3. Emma (1815)
Emma was the last novel to be published in Austen's lifetime and deviates somewhat from the usual quest to secure marriage and financial security. Before beginning the novel Austen reportedly wrote: "I am going to take a heroine whom no one but myself will much like."
Emma Woodhouse is 'handsome, clever and rich' and her privilege sets her apart from Austen's other heroines, not only in wealth, but importantly in the freedom not to marry. Emma declares that she never intends to marry, and indeed seems immune to romantic attractions despite the interest shown in her, choosing instead to play matchmaker to her friends, including the less fortunate Harriet whom she picks as a companion.
Despite her advantages in life Emma could be considered one of Austen's most flawed, and human, heroines, being spoiled, headstrong and self-satisfied. She openly struggles to live up to the expectations of patience and compassion due to the more needy members of her social circle, and frequently bemoans her obligations to the impoverished Jane Fairfax, much to the disappointment of her friend and brother-in-law Mr Knightly.
"Seldom, very seldom, does complete truth belong to any human disclosure; seldom can it happen that something is not a little disguised or a little mistaken." - Jane Austen, Emma

2. Persuasion (1818)
Austen's final finished manuscript, Persuasion was published after her death and named by her brother Henry. It's reported that Austen had often expressed deep concerns about how society applied persuasion and pressure on young women.
Protagonist Anne Elliot proves a victim of such dangers. Having been persuaded by friend Lady Russell to break off an engagement in her youth, we meet Anne as a faded beauty in her late twenties, already considered an old maid, still racked with regret for refusing Fredrick Wentworth, who we learn is now a successful Captain in the navy.
It becomes evident that Anne's suffering is not solely romantic when we meet her reckless, spendthrift, self absorbed family but she proves a credible heroine as the family's pillar of strength in their frequent moments of crisis. She is forced to take responsibility for saving the family from financial ruin, persuading her father to let out their estate and hopes to curb his expensive social excursions by moving the family to a quite countryside residence but he and her sister have other ideas, moving the family to Bath where they flourish in a vibrant society which includes none other than the newly returned Captain Wentworth.
"I hate to hear you talk about all women as if they were fine ladies instead of rational creatures. None of us want to be in calm waters all our lives."- Jane Austen, Persuasion
Forced to mix in society with the very man who her family had deemed unsuitable eight years before, and whose broken heart remains her biggest regret, Anne's suffering seems unrelenting as she watches younger women in her own circle vie for Wentworth's attractions. The reader suffers along with Anne whose circumstances closely reflect Austen's own experience of love, but the author shows no mercy, practically toying with the reader in this 'will they/won't they' romance. But Persuasion cannot be reduced to a mere Romance with Austen's sharp social critiques underpinning the narrative throughout, it is as much a commentary on social history as it is a work of fiction.
1. Pride and Prejudice (1813)
Oh of course Pride and Prejudice takes the top spot! Well received at the time of publication, the novel's popularity hasn't dwindled with time. Quite the contrary, there remains a fascination among modern readers with Austen's most famous novel, continuing to appear at the top of 'most loved books' lists.
Protagonist Elizabeth Bennett, and her romantic hero Mr Darcy, remain central to this fascination. The novel's original title First Impressions, aptly pins down the crux of their tumultuous relationship.
Like Anne Elliot, Elizabeth seems ill-fated by the impropriety of her family. The Bennetts, despite their various faults, are one of the best loved families in literature. Being of middling income, the future of the five daughters is in no way secure with the estate bequeathed to the closest male heir. Mr Bennett's pursuit of a quiet life borders almost on neglect, yet his intelligence and wit make his quiet character endearing. The brash, overbearing Mrs Bennett is comical in her vulgarity but her devotion to her daughters' futures is undeniable. The eldest, Jane, upon whose beauty and grace all hopes of financial security are pinned, cannot be faulted and yet she is still likeable. Her complete goodness provides the space for Elizabeth's edge, the heroine's cynicism and sharp wit making her an iconic female character in literary history.
The three younger daughters are disapproved of their various ways, being too dull, too shameless and too easily led respectively, but it is Lydia's behaviour which threatens the family's reputation, and the other daughters' eligibility, most seriously.
The family relationships of the Bennetts are as key to the narrative as the love story between Elizabeth and Darcy, although it is the latter which produces the most memorable scenes and quotes in the novel.
"In vain have I struggled. It will not do. My feelings will not be repressed. You must allow me to tell you how ardently I admire and love you."- Jane Austen, Pride and Prejudice
Contact us
Get in touch and be part of the story
You can also speak to us on:
0151 729 2200