The Reader magazine is the voice of The Reader, a national charity bringing about a Reading Revolution so that everyone can experience and enjoy great literature, which we believe is a tool for helping humans survive and live well. Through our global Shared Reading movement, powered by 1,000 volunteers and many partnerships, we bring thousands of people together every month through weekly reading aloud groups. We use literature to connect people to themselves and others, develop a shared language for our inner lives, and spark the social and personal change needed in the world.
We'd love to know how you're enjoying the magazine! Send messages and photos to magazine@thereader.org.uk. If you're on social media, please give the magazine a shout out on Facebook, Twitter or Instagram to let everyone know it has relaunched! Let us know what you think, and what you might like to see in future issues.
Though we no longer publish brand new fiction and poetry in the magazine, in the regular section called 'A Little, Aloud' we showcase the stories and poems that are being used in Shared Reading groups around the country, alongside responses to the text from some of those groups. And in every issue, we hear from Reader Leaders or staff members writing about the joys and challenges of running a group.
The Reader Magazine is kindly supported by Arts Council England.
The Reader Magazine is stocked in bookshops all over the world. View the full list of stockists here.
Subscribe to The Reader Magazine
Issue 75
Why do we read? To find ourselves, or for an encounter with other times, places and experiences? Questions we ponder with the help of writer Tomiwa Owolade, and with Josh Cohen, psychotherapist and author of How to Live. What To Do. No matter the answer, we have plenty of recommendations of what to read for all ages. The best source of reading inspiration is our new Reader Bookshelf, our selection of texts on the theme of 'Light and Darkness' which will inform our programming and reading for the year – you'll find more information and 'ways in' to the Bookshelf in this issue.
Purchase Issue 75
Issue 74
As Issue 74 is published, autumn is approaching and we're moving 'inside' to think about our inner life and explore literature that helps us understand how our private selves are moulded, neglected or sustained. This issue takes a closer look at our work in criminal justice settings, where we believe literature can be a tool to connect with others and make sense of life. We speak to three poets – Rob Cowen, Romalyn Ante and Andrew McMillan – who have recently published new collections of poetry in an attempt to reconcile and transform the tumultuous experiences of the past year.
Purchase Issue 74
Issue 73
Issue 73 explores the theme of 'Walking the Earth', looking at the journeys we take to become who we are, and how as humans, we live together on our planet. The magazine also includes a brilliant conversation between Derek Bardowell and Ruth Ibegbuna about sport, racism, fear and hope, and we revisit a classic essay by author and journalist Simon Barnes.
Purchase Issue 73
Issue 72
Issue 72 features the stories and poems that got us through lockdown, and staff and volunteers share personal accounts of The Reader at Home. All this as well as an interview with reader, DJ and musician Cerys Matthews, and recommendations for good books for young and old.
Purchase Issue 72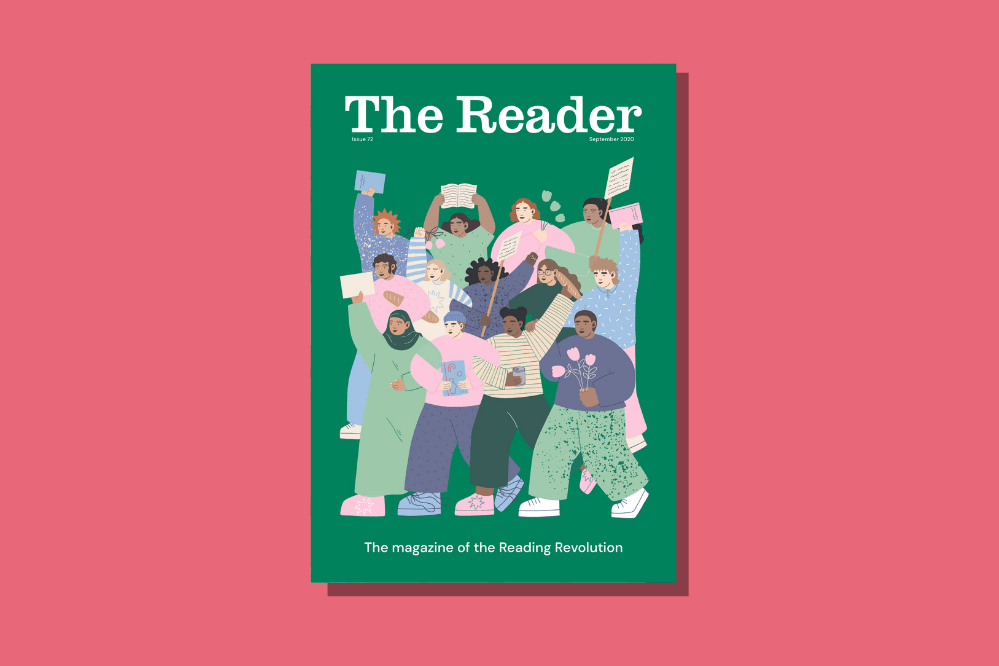 Issue 71
Issue 71 Includes contributions from voracious reader (and Oscar-winning director) Danny Boyle and The Reader's founder and director Jane Davis, as well as our regular features and interviews.
Like the idea of subscribing but want to try before you buy? Read a sample copy of issue 71 here.
Purchase Issue 71