We ceased production of The Reader magazine in February 2023.  
If you were a subscriber and have not yet heard from us, please email magazine@thereader.org.uk and we'll get in touch as soon as possible. 
The first issue of The Reader magazine in 1997 was the first manifestation of The Reader. Over its 76 issues the magazine charted the beginning and growth of the practice that became Shared Reading, the development of The Reader as a national charity and international movement, and the search for and creation of a home that became Calderstones and its social enterprises.  
The magazine showcased the stories and poems read in Shared Reading groups around the country, alongside powerful, personal responses to that literature. Reader staff and volunteers wrote about the joys and challenges of running Shared Reading groups, and moments of surprise and self-discovery that have emerged from encounters with great literature. It also included interviews with well-known names about their reading lives, and reviews of books old and new.  
We are currently working on ways to make this rich archive of writing available to The Reader's volunteers and supporters.  
In the meantime, you can purchase recent back issues of the magazine below, visit the Something More section of the website where we're sharing poetry and reading recommendations, or subscribe to The Reader podcast for more exclusive content.  
Issue 76
Issue 76 is focussed on childhood: on literature that draws out its strangeness and possibilities, and on The Reader's work with children and young people which harnesses a sense of fun and the power of reading aloud to make brilliant books available to all. With SF Said, Frank Cottrell Boyce and Lucy Mangan.
Purchase Issue 76
Issue 75
Why do we read? To find ourselves, or for an encounter with other times, places and experiences? Questions we ponder with the help of writer Tomiwa Owolade, and with Josh Cohen, psychotherapist and author of How to Live. What To Do. No matter the answer, we have plenty of recommendations of what to read for all ages. The best source of reading inspiration is our new Reader Bookshelf, our selection of texts on the theme of 'Light and Darkness' which will inform our programming and reading for the year – you'll find more information and 'ways in' to the Bookshelf in this issue.
Purchase Issue 75
Issue 74
As Issue 74 is published, autumn is approaching and we're moving 'inside' to think about our inner life and explore literature that helps us understand how our private selves are moulded, neglected or sustained. This issue takes a closer look at our work in criminal justice settings, where we believe literature can be a tool to connect with others and make sense of life. We speak to three poets – Rob Cowen, Romalyn Ante and Andrew McMillan – who have recently published new collections of poetry in an attempt to reconcile and transform the tumultuous experiences of the past year.
Issue 73
Issue 73 explores the theme of 'Walking the Earth', looking at the journeys we take to become who we are, and how as humans, we live together on our planet. The magazine also includes a brilliant conversation between Derek Bardowell and Ruth Ibegbuna about sport, racism, fear and hope, and we revisit a classic essay by author and journalist Simon Barnes.
Purchase Issue 73
Issue 72
Issue 72 features the stories and poems that got us through lockdown, and staff and volunteers share personal accounts of The Reader at Home. All this as well as an interview with reader, DJ and musician Cerys Matthews, and recommendations for good books for young and old.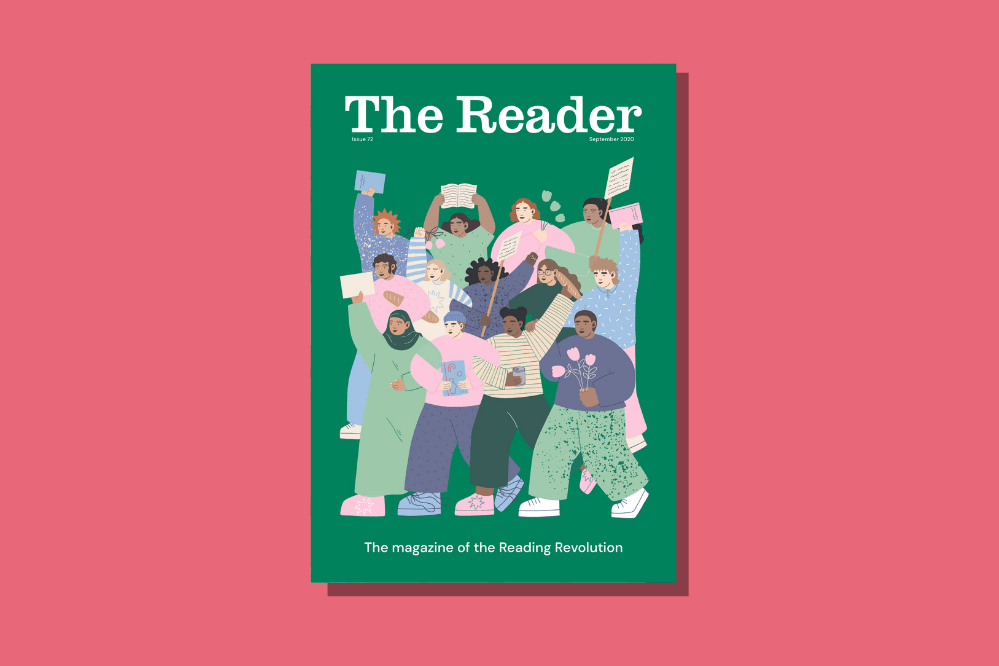 Issue 71
Issue 71 Includes contributions from voracious reader (and Oscar-winning director) Danny Boyle and The Reader's founder and director Jane Davis, as well as our regular features and interviews.
Like the idea of subscribing but want to try before you buy? Read a sample copy of issue 71 here.
Purchase Issue 71